Special Bonus: The Daily Double Special
Titled the Daily Double Special - The Hidden Money, this special bonus system will enable you to understand and deduce how the hidden money affects the double payoff and how you can detect where the hidden money is being wagered for a winning situation.
How many times have you hit the Daily Double and said to yourself "Is that all it paid?"
How many times have you seen two longshots on both ends of the winning daily double and the payoff was grossly under-paid, under-valued or just plain incomprehensible?
My Daily Double Special - The Hidden Money will not only show you why these payoffs occur but will give you an overwhelming edge for finding the winning horse using my special formula...that works!
Simple and easy to use. Finding the Hidden Money will blow you away. Whether your a full-time handicapper or simply a day-to-day horse player, "Thoroughbred Horse Racing Systems and Methodologies" is a must have.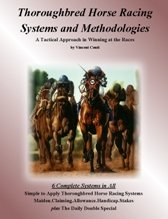 Over Informed? Too many statistics? Odds continually changing making you change your way of betting? Program changes? Latest workouts? Layoffs? Speed Ratings? Top Jockeys? Top Trainers?
Using these horse racing systems will eliminate the second-guessing and confusion. They are direct and take minutes to apply. The next time you pick up the racing program, put YOUR blinkers on and use these systems.They work.
ONLY $24.95 for 6 Thoroughbred Systems....FREE SHIPPING!
The Daily Double - Not a Laughing Matter
As a veteran horse player, the Daily Double bet has always been one of my favorites. Many horse players may not realize why this can be your best bet at the races but I am sure many of the "old-timers" truly know this wager can have good value. Horse players that have been around for years know that the double wager, for the most part, was only available for the first two races of the daily program. Years ago, it was important to get your daily double wager in before the racing day started. The daily double was usually spoken about amongst the old-timers for a better part of the day.."What did the double pay?" or "I caught the double today" and "That was some price the double paid!"
I remember hearing these quotes from the more experienced horse players and could never figure out why the double was so important. I always thrived on the "big" money..playing the triples or the Superfecta which was only available in the final race. Years have passed and I've grown to understand the daily double mentality. As you know, the daily double wager is picking the winner of the 1st race and picking the winner of the 2nd race together on the same ticket. The logic:
Picking a horse to win is easier than picking a horse to run second!
Handicapping a race is solely based on finding the horse that you think is going to win. Now I want you to handicap a race and try to find a horse that will run second. Not first, not third but it has to finish in second place. Think about it...a difficult handicapping feat? Isn't it easier to find that one horse that will come in first? I'll let you decide what is easier.
I now understand why the daily double is probably one of the more popular of wagers in the racing industry. I now understand why those old-timers focused on this wager more than any other wager. The daily double can be a very profitable wager, and partwheeling several horses on each end of the double greatly improves your chances of winning.
Horse racing tracks have come a long way with expanding their exotic wagering in each and every race on the program. Some tracks provide you with "rolling daily doubles" and "rolling pick 3's". Here in New York the tracks provide daily double wagering in the first two races and the final two races. Certain days you may find 4 or 5 daily double opportunities. Triple betting in every race! Go Baby Go!
I developed a Daily Double system that provides you where the hidden money is being wagered. Once you find out about this "secret" of the daily double you will be truly amazed and astounded. Uncomplicated deciphering! A methodology used by few people in the racing industry. It will open your eyes once you learn and apply this winning technique at any race track. I continue to receive many emails from people who have purchased my book and claim they cannot believe the results from using the Daily Double special. That's because it is an amazing technique...and best of all it works.
To Purchase by Mail: Send Check or Money Order $24.95 to:
Vincent Conti
15 Nelson Ave #80304
Staten Island, NY 10308

FREE SHIPPING
---