Do you Play the Pick 3 Daily Number?
Pick 3 Players can now play the Daily Number using New York's Lottery Analyst Vince Conti's angles and methods ... for free.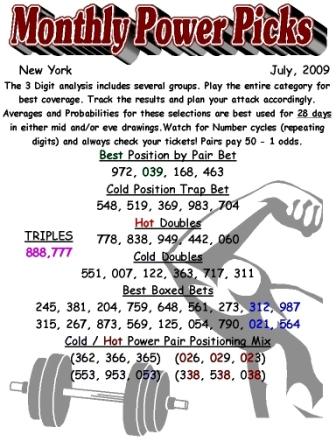 This PICK 3 Power Sheet is simply a sample of what customers receive each month. This Pick 3 variation uses several patterns and trends as it produces multiple winning tickets for the allowed period.
Each of my Power Sheets is an analysis composed using several categories to best determine anticipated results. Hot Pairs, Cold Doubles, Hot Doubles, Best Position by Pairs, Trap Patterns, Best Boxed plays of the month and Pair Positioning are just a few angles for producing Pick 3 selections.

At NumberPlayer.com you can find several updated FREE angles posted. Each angle can be applied for you favorite Pick 3, Pick 4 or Pick 5 Lottery games. I produce Power Sheets for any state that has a Lottery ...
CASH 3, CASH 4, FANTASY 5, MEGA MILLIONS and POWERBALL
Every order received gets a fresh Up-to-Date analysis! Order any time of the month, any day of the week and you will receive the most recent analysis of the game you enjoy to play, but more importantly the game you want to Win at.
Number analysis is the study of Lottery action for the purpose of forecasting future lottery numbers and trends.Those who practice number analysis, such as myself, use many tools to make their forecasts.
Trends ... Historical Data ... Timing
Whether you play PICK 3, PICK 4, PICK 5 or PICK 6 it's an amazing formula for successfully winning at your favorite Lottery game.
Patterns, Expected Hit Averages, Best Co-Digits, Frequency, Averages and Probabilities are all incorporated into a Winning Power Sheet.
Checkout Number Player for yourself.
TRAP SKEET, KEY BETTING, ICE BOX, POWER PAIRS and a FREE PICK 5 SYSTEM are posted to add to your PICK 3, PICK and pick 5 Number Playing arsenal!


As a columnist for New York's Best Lottery magazine, "Lotto Stats", sister publication of "Lotto News", I have been knee deep in all facets of Lottery games. Through the years I have developed and maintained an arsenal of methods that can help you increase your odds in any Pick 3, Pick 4, Pick 5 and Pick 6 Lottery games.
Monthly subscribers from across the country receive my Power Sheets on any Lottery game. Pick 3 and Pick 4 sheets are the more popular sell however until recently I have added both Mega Millions and PowerBall Power Sheets to my resume'.
Testimonials are not uncommon to my website and within my subscriber Emails. The monthly Email subscribers are the first to receive website updates, Number Alerts, Selections and much more.
What are Power Sheets? Take a look at the Power Sheet sample above. This particular PICK 3 Power Sheet includes several categories. The numbers listed under each category are the best selections for that category. Consecutives, Doubles, Boxed numbers, Positioning for Cold and Hot pairs, and more. Expected hit averages are listed for your betting strategy, all you have to do is follow the results and plan your attack accordingly!
Power Sheets have a winning history. To date, the average Pick 3 sheet collects over 6 boxed hits and 1 straight - Minimum! Although I cannot guarantee a Straight hit, a compliment of other residual prizes is the norm. In New York a Front Pair or Rear Pair play pays 50 -1 odds. A great hedge for the Daily Number player. Not all states carry this wager type, but nevertheless, Pick 5, Fantasy 5 and State Pick 6 Lotteries Power Sheets always deliver a winning combination.
The latest sample of a Winning formula. This Power Sheet made some nice Profits for one of my Michigan clients.
Michigan CASH 3 Power Sheet. April 2010
In ONLY 3 weeks this Michigan Power Sheet produced
11 BOXED Hits and 4 STRAIGHT HITS!
The Best Position category nabbed 3 Straight Hits!
Best Position by Pair Bet
619x2s, 784, 985, 162s, 305
Best Boxed Bets
315x2, 237, 457, 836, 728s, 964, 107, 123, 879
086, 538, 529, 023, 635, 480, 357, 687, 435
Up-to-Date analysis per order for any State, any game.