Handicapping Book
Strictly Horse Racing Systems in this handicapping book. I'm sure you have been searching the internet looking for some kind of advantage for winning at horse racing. And just like many others, I'm sure you purchased software or CD's on horse racing statistical data or specialized software programs for figuring out dosage, variants and other granular material for picking winners.
I recommend you put aside your overworked handicapping engineering mindwork for a minute and think of how easy it would be to browse through a racing form and within minutes have the capability of finding a winner...a longshot winner!
Well, this is what I do without the stress of analytical data...I apply my horse racing systems to each race and find qualified system selected winners that pay handsomely. These racing systems were developed for each type of race currently being run in North America:


1 System for all Maiden Races

1 System for all Claiming Races
1 System for all Allowance Races
1 System for all Handicap and Stakes Races
1 System for ALL types of races!
No Software, No Cd's, No Gimmicks and you do not have to read 200 pages of horse lore. Each method is simple in structure and is diligently explained using basic laymen's horse racing terminology. Win percentages above 50% for each system and proven winning results listed for each system. No complicated mathematics, no membership or subscriptions necessary to purchase these highly rated horse racing systems. A very down to earth handicapping book that will work for you!
"Thoroughbred Horse Racing Systems and Methodologies"
is now available at the unbelievable value of just
$24.95 ... that's only $4.00 per system!
Shop and compare the average cost of a single horse racing system and you can easily pay 40,50 or even hundreds of dollars.
These systems guarantee you winners as long as you apply each system correctly, discipline your analysis and manage your bankroll.
The key to winning is discipline.
The key to winning is money management
Easier said than done I couldn't agree more. But after years of toiling in the loser bracket, I've decided to make a change. If you read the material throughout this website you will notice how a long-time horse handicapper made himself into a disciplined gambler applying self-made horse racing systems that basically bring in the money to a managed bankroll. I win at horse racing and my handicapping book proves it!
Many handicapping books on the open market will not give you SIX viable systems in one easy to read package. Hundreds have been sold in North America, Canada and the U.K.
I continue to receive emails and mailings notifications from people who continue to be amazed on how these systems are working for them...especially my Daily Double system which is aptly title
"The Daily Double Special..Finding the Hidden Money"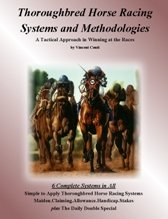 This book was in the TOP 10 Handicapping Items List of 2007 by Phillips Racing Newsletter!

$24.95 FREE SHIPPING
To Purchase by Mail:
Send Check or Money Order $24.95 to:
Vincent Conti
15 Nelson Ave #80304
Staten Island, NY 10308

---