Free Horse Racing System
Welcome. I would like to share with you a free horse racing system to add to your arsenal of thoroughbred horse racing knowledge. Now, as a professional handicapper, I can honestly tell you this is not an original betting strategy. There are many variations of all types of horse racing systems and methods and this particular system is currently used by many handicappers... both amateurs and professionals alike. Once you read through this system you may want to go to my "how to bet" page:

In order to perform this easy-to-use powerful angle you will need to have the daily racing form. This spot play can be applied to all types of thoroughbred horse races. This free horse racing system angle will give you both longshots and favorites.
The basic premise of this free horse racing system is to give you your best top connections at your racetrack. Trainer and jockey combination(s), as you know, can and will make a difference when narrowing down a field of even-matched opponents. This can aide you in your final decision.
This "edge" will give you a WIN bet, which will lead to the exacta win bet and hopefully lead to the trifecta win bet.
Like any sport, a chemistry between a trainer and jockey evolves over time. A strategy is developed. A synergy is created over a period of time and hence a top combination / percentage is produced.

Trainer / Jockey Combination System
Let's get straight to the point: In the Daily Racing Form you will need to look at the bottom right corner where you will see the Jockey/Trainer statistic also shown as...

J / T directly under the past perfomance of each horse in the race.
This statistic will show you the current meet and current year. In order to correctly apply this free horse racing system the Jockey / Trainer statistic needs to have certain criteria in order to be applicable. The Jockey/Trainer combo must have at least 6 starts, with 15% wins and a profit of over $2.50.
It will look like this:
J/T 2005-06 SA (6 .20 $2.40)

This statement shows: Jockey/Trainer combination for the years 2005-06 at Santa Anita racetrack. 6 combo starts, a 20% factor and $2.40 mean profit.
An important system factor(s): The horse must have finished out of the money its prior race - 4th or worse. The horse must have raced within one month (30 days). Longer layoffs should not be applied. You may find an exception to the layoff rule by looking at the horses latest workouts. If the horse has not run in over 30 days but does show a bullet(s) workout it may be considered. Your handicapping knowledge will no doubt decipher this exception.
Free Horse Racing System summary
1.Locate the Jockey/Trainer combination statistic.
2.Must have at least 6 starts.
3.Must show 15% or higher percentage.
4.Must show a profit of $2.50 or higher.
5.The horse MUST finish 4th or worse in its last out.
6.Layoffs of 30+ days cannot be applied.

The Jockey / Trainer statistic is used by many handicappers to assist in their final decision to pick the horse that they think will enter the winner's circle. Afterall, top percentage trainers always get a better "look" before the race as does top percentage jockeys. Now you have an actual combination percentage at a specific racetrack!
This free horse racing system is very simple to apply. All you need to do is stick with the rules and apply them correctly. It's your discipline that can bring in profits from any winning method. For additional racing information for wagering on any angle visit the partwheeling strategies.
To date, the Jockey/Trainer betting strategy has been averaging a payoff of approximately $11.00 per win in my experience. This does not necessarily mean it doesn't create longshot winners.
If you are analyzing a maiden race with horses that have less than 3 races, cross check the J/T combo with the trainer's yearly statistic and the current meet percentages. This statistic shows the starts, wins, place and show at that meet for the current year. This will greatly help your handicapping analysis and it will enhance your knowledge using top percentage trainer/jockey combinations. As I continue to research and develop more angles, I will conveniently post them on this website for your viewing.
"Thoroughbred Horse Racing Systems and Methodologies"
A total of 6 top percentage horse racing systems. Each of these winning methods can be applied to each thoroughbred horse race currently being run across all circuits. Here's what you get:
1 System for all Maiden Races

1 System for all Claiming Races

1 System for all Allowance Races

1 System for all Handicap and Stakes Races

1 System for ALL types of races!
**SPECIAL OFFER**
Also included is a top win percentage system titled "The Daily Double Special - The Hidden Money."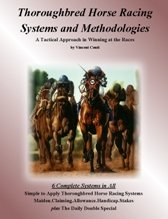 This book was in the TOP 10 Handicapping Items List of 2007 by Phillips Racing Newsletter!
Six Systems for $24.95 ...only 4 bucks a system!
To purchase by mail:

SEND CHECK OR MONEY ORDER FOR $24.95 TO:
Vincent Conti
15 Nelson Ave #80304
Staten Island, NY 10308
FREE SHIPPING


Want to Download a copy of my book? Guaranteed to be faster and cheaper!