Horse Race Betting Guide
A horse race betting guide and information for you to learn and apply when your at the track, horse parlor or casino.

These wager types are essential for winning. I'll give you 6 systems, one for each type of race. The betting system will give you a winner. Now you need to know how to bet it right for maximum returns.
PARTWHEELING:
A way of extending your betting money in trifectas, superfectas, pick 3, pick 4 and pick 6 bets...the Partwheel may be the way to go.
When wheeling horses you actually increase your chances of winning. For example, you could do a four horse box for $24.00. Or you can do a KEY bet with as many as five horses or a PARTWHEEL with as many as eight horses for the same $24.00. It's obvious the more horses you key on your ticket the more chances you have to win.
Suppose you wanted to bet the #1 and #2 horse in the win slot, the #1,#2 and #3 in the place slot and the #1,#2,#3,#4,#5.#6, #7,and #8 horse in the show slot. This would cost you the same $24.00 and here is how you would call it.
$1.00 trifecta Partwheel, 1 and 2 WITH 1,2 and 3,WITH 1,2,3,4,5,6,7,8.
Now you have twice as many horses running for the same $24.00 that a box would have cost. This horse race betting information is essential to know...Why?
My systems will give you the winner. However, to handicap a horse to run 2nd or 3rd in any given race is truly a difficult task.
Key Betting is also another great way to improve your chances of winning.
For example: #1 to Win #2,3,4,5 to Place/Show

The #1 with 2,3,4,5 will cost you $12.00. What happens here is simply this. The #1 horse needs to win and the 2,3,4,5 horses need to run second or third. The more horses you add to the Key the more it'll cost but your chances of hitting your ticket improves greatly.
Pick Three Partwheel betting guide is also a very simple wager.
First Leg: #1 and #2 Second Leg: #1, #3, #4 Third Leg: #3, #4, #5, #8 Cost: $24.00
You cover 2 horses in the first leg, 3 in the second and 4 in the third leg. Sometimes your horse loses by a nose, and its nice to have a backup in there. This can cover your pick 4 and pick 6 wagering using the same PARTWHEEL betting guide.
How to add it up? Simply multiply the number of horses in each leg (2 x 3 x 4 = $24.00)
Pick four Partwheel:
First Leg: 1,2 Second Leg: 2,3,4 Third Leg: 5,6 Fourth Leg: 3,4
(2 x 3 x 2 x 2 = $24.00)
Pick Six Wagering
- Ever wonder how people hit the Pick 6? The odds are they are NOT playing 6 individual horses. Most likely using 2 horses plus per race with a single here and there.
First Leg: 1,2 Second Leg: 2,3,4 Third Leg: 4 Fourth Leg: 1,2 Fifth Leg: 3,4 Sixth Leg: 4,5
Here's how to add this up: (2 x 3 x 1 x 2 x 2 x 2 = $48.00)
Basic betting strategy will help you enhance your chances of winning at the racetrack.
---
A total of 6 top percentage horse racing systems. Each of these winning methods can be applied to each thoroughbred horse race currently being run across all circuits. Here's what you get:


1 System for all Maiden Races

1 System for all Claiming Races
1 System for all Allowance Races
1 System for all Handicap and Stakes Races
1 System for ALL types of races!
**SPECIAL OFFER**
Also included is a top win percentage system titled "The Daily Double Special - The Hidden Money."
This book was in the TOP 10 Handicapping Items List of 2007 by Phillips Racing Newsletter!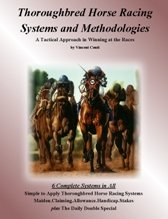 Thoroughbred Horse Racing Systems and Methodologies also gives you strategies, betting guide and betting information for ALL types of thoroughbred horse races currently being run in the horse racing world!
ONLY $24.95
That's $4.00 per system with FREE SHIPPING !!
To Purchase by Mail:
Send Check or Money Order $24.95 to:
Vincent Conti
15 Nelson Ave #80304
Staten Island, NY 10308

FREE SHIPPING


---
"Horse racing is more fun when you win! Win more often with ProPick Racing. Safe, US licensed, all bet types accepted and pooled with the track. ProPick Racing, the partner that pays."